Students in Julie Mundahl's Gourmet Foods class showcase cakes in a new way
Students in FACS teacher Julie Mundahl's second and third block Gourmet Foods classes bake cakes, and always have a competition every quarter to see who can decorate the best cake. Usually, they set up the cakes in the cafeteria and BHS students can vote on which one is their favorite. But now this year, Mundahl has decided to try something new in the class to showcase the cakes even more then just the competition.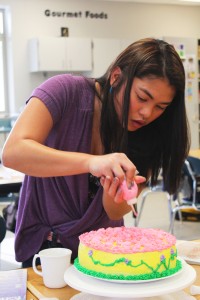 "A student of mine showed me a website where you can create your own website and it sounded like a good idea. So we created one to show off the cakes the students made." said Mundahl.
This is the first year, and the first quarter the class has chose to use the website as an alternative to the competition. Even though the website has only been up for a few days it is already growing. The website is featured at http://gourmetcakebakes.webs.com .
"The website has a homepage, and a gallery with two separate folders for the two classes. In them are pictures of the students cakes during the making process and the final cakes." said Mundahl
The website was created to be an easy way to showcase the cakes to other people besides just students at BHS.
"For a teen, it's easy to navigate throughout the website well" said Senior Daniel Bonn Mundahl's students have had positive feedback to the making of the sight and are enjoying seeing the site progress, instead of doing a competition.
"I like the website because it is really simple and it is a work in progress," said Senior Quinn Parks "It shows all of the hard work and dedication we put into the class."
Story by Molly Kwakenat and Dan Holland