As Freshman Ryan Bunting is walking down the hallway, he wears a fashion trend that seems to be seen everywhere in the halls, now that the Holiday and Winter Season has made its way to Buffalo High School. He is wearing the infamous 'ugly sweater'. From obnoxious Christmas sweaters to bold striped oversize sweaters to vests of all colors, they can be seen all over students that you pass by in the hall.
"They are really fun to wear and it's sweet to see other peoples reactions when they're really weird" said Bunting
Today, and previously always the day before winter break, is the school's annual 'Ugly Sweater Day' to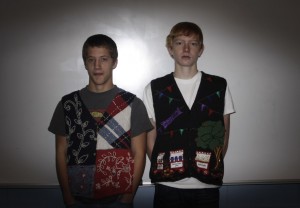 get students excited and pumped up for the upcoming winter break and to celebrate Christmas time.
"I like wearing ugly sweaters because they are ugly" said Sophomore Jay Mason
Mason is one of the many students participating today, by wearing a Hunchback of Notre-Dame Disney sweater vest. Of 50 BHS students surveyed, roughly 80% will participate on Ugly Sweater day. Only a fraction of students will not participate."It's not like I didn't want to wear a sweater," said Freshman Paige Hasledalen "I just didn't have one and I didn't want to go out and buy one or ask someone to borrow one."
Story by Molly Kwakenat
Photo by Ben Leipholtz