"There is nothing quite like it, / the feeling that I get when the music drops. / I think I might be psychic, / cause I'm seeing myself somewhere on top."
Junior Brody Stevens has been broadcasting his rap videos on YouTube and sharing them on Facebook. This has been a hobby of Stevens for a year and a half now and he has been improving his skills on becoming a better rapper.
"It started off as just something fun to do with my friends," said Stevens. "If you do it long enough, you start to get better at it. It just clicked for me."
Playing around with words and making them into lyrics, has become Steven's way to express his feelings.
"I'll just be sitting there and throw on some music and start writing, " said Steven's. "If I'm full of emotion, I'll just write to vent."
With 2,533 views of his videos on YouTube, and over 400 comments and likes on Facebook, different opinions are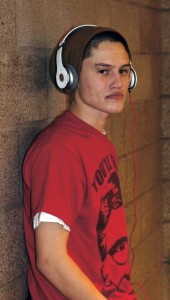 brought up.
"It's easy to relate to what he's rapping about," said Junior Sam Wanner. "He's good at saying things people think about but just don't say out loud."
"I don't really care for them," said Senior Becca Skelly. "It's just not the type of music I listen to. He does have a talent for it though, but it's not something I keep up on like others."
The negative comments haven't stopped Steven's from rapping. His recent Facebook status says, "Hating won't make me stop… It'll only make me want it more."
Not letting anything affect his raps, Stevens continues to make videos using the positive and negative feedback to help improve his rapping.


"If you think my flow is lame, / then well b…. I think you're the same, / then who's the f…'s to blame for why you can't forget my name, / it's Brody Stevens."
Story By Bailey Hanson & Maddi Herzfeld
Pictures By Emma Rodelius