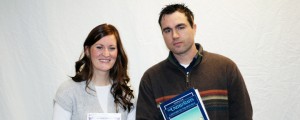 Mandy Boyle and Mike Curry share a common aspect of their jobs as they walk the halls of BHS.  Both Boyle and Curry are ending their student teaching experiences today. The two familiar faces will no longer be a part of the BHS community when classes begin tomorrow.
"Buffalo is an amazing school. There is great student and staff support and I feel very welcome here," said Boyle.
Both Boyle and Curry enjoyed being at BHS and building relationships with the students.
"I try to get to know students as much as possible," said Curry. "Whether its taste in music or sports. It makes teaching more fun for me and it helps build relationships. Students might learn better if the teach is interested in more then just the subject they teach you."
Music students said that they have bennefitted from the additional support and learn better from having the student teacher in the classroom.
"I love working with kids," Boyel. "I have a passion for music so I wanted to find a way to build on my passion and work with kids."
Both have fond memories from their short time here and will miss the students and staff here at BHS.
"I am looking forward to December 14, because I will graduate but I will be a little sad to leave the students," said Curry.