Bison Girls Lead Teams to the Top
Almost every sports team has a leader, especially here at Buffalo High School.  For the gymnastics team this winter it is Senior Paige Habisch. This previous summer for Marching band's flute leader was senior Kirsten Olson. She is also a leader for this fall's Girl's Swimming and Diving team.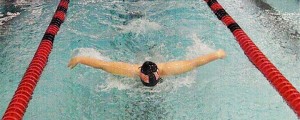 These girls are just some of our 2011 Captains. They are captains themselves and also with one other girl.  Annika Bordak is the other captain for Girl's Swim and Dive with Olson. Leeza Kennedy and Habisch are the captains for gymnastics.
" I love it. I am able to lead the group and watch them grow," said Habisch.
Not everyone has a chance to be a captain. Captains are chosen, they stand out.
" Being a captain is harder than I thought it would be.  It's very stressful and time consuming. Many people try to over rule my ideas. I just stay calm. Above all of this stress, I have a ton of fun and so do the people around me that I am busy leading," said Olson.
Most people say that being a captain is an opportunity in a lifetime. It's a chance that most people take.
"In Gymnastics were like a big family. They help me grow individually." said Habisch.