Bison Varsity Boys' Hockey drops home opener to Brainerd
The Boys' Hockey team lost their home opener versus Brainered 2-6 on Thursday night.
The evening started off with enthusiastic player introductions sparking energy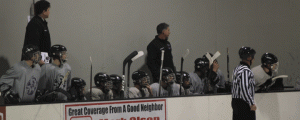 through all the cheering fans in the stands. Right off the bat during the first period, Brainerd struck first, but shortly after, Freshman Gunner Goodmanson tied up the game when the puck bounced off his skate into Brainereds' goal, assisted by Senior Max Willard. Unfortunately from then on, Brainerd got another four goals, leaving the score from the first period 5-1. Senior Goalie, Blake Schmidt was put in for the second and third periods. No one from either team scored during the second period, but the game definitely got heated up when Senior Sam Klein delivered several full speed checks to Brainerd players. Klein took at least three trips to the penalty box for aggressive play.
"After you get a big hit on a kid, it's like a huge adrenaline rush," said Klein," and then when the crowd goes crazy over it, it just pumps you up even more."
At the start of the third period, the score still 5-1 with 14 shots on goal for the Bison and 23 for Brainerd, Schmidt hadn't missed one puck shot in by Brainerd until they got a break-away and just got the puck in by a hair. The Bison made another goal, but time was running out and they lost to Brainerd 6-2 .
"It was really exciting to see all the people in the stands, especially in the student section, because it made for a fun first home game for the season, said Junior Cale Ehresman. "It just would have been nice to get a win for the first home game."