New drivers encounter slippery roads
The first snowfall occurring on Saturday, November 19, brought slippery roads and dangerous conditions for all drivers. Especially young inexperienced ones.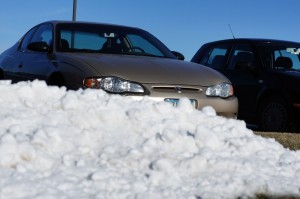 "I was waiting for my friend [Sophomore] Jesse Sullivan to get to my house Sunday night when my power went out," said Sophomore Wilson Anderle. "When I looked out my window, there was Jesse's truck in the ditch wrapped around a power pole about 40 yards down the road."
Some incidents involved more than just going into the ditch. On Monday morning there was a four car pile up on Dauge AVE that included Sophomore Connor Martin totaling his jeep.
"There was literally nothing I could do," said Martin. "I came over the hill and I slammed on the breaks immediately when I saw how backed up the cars were at the red light. I slid into the ditch and clipped the car in front of me on the way."
Not only new drivers found trouble driving on the slippery roads.
"The first time I went into the ditch I was able to get out by myself," said Junior Rylee Kula. "Later that day I was leaving my friends house when I spun out trying to turn a corner and went into the ditch. Luckily some nice, old, and cute man helped me out. I offered him money, but he said he just wanted to help a neighbor out."