Junior Class Cabinet works hard to create an 'unforgettable' prom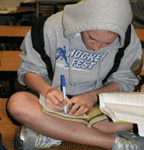 Prom is to be an 'unforgettable' night, but many students forget the work put into it before the night even begins. As a years worth of planning has come to an end for Junior Class Cabinet, and with prom rapidly approaching, last minute details have to be sorted out in hopes of making prom a night to remember for Buffalo High School students.
 Junior Class Cabinet is run by Spanish Teacher Nancy Eiynck and Social Studies Teacher Tracy Hulley, but a majority of the work put into it done by students. Junior Class Cabinet also organizes the volleyball tournament for homecoming week's fun night, and a staff breakfast run by freshmen. Planning for prom began last year, when the group booked the event center where it will be hosted. This years theme, Unforgettable, was selected after many ideas were presented and voted upon. The decorations were selected accordingly, and the planning has progressed.
On Friday May 1, Junior Class Cabinet will be excused along with the Seniors, to set up the scene for grand march. 
"We usually have prom pretty well planned, but there is always something that comes up," said Eiynck. "Something unexpected or forgotten tends to happen last minute."
 Through all the work and time put into prom, Junior Class Cabinet has also enjoyed the experience. They have control over the whole creative process, and experience of prom.
 "The planning is fun until the last couple of weeks, and then it gets stressful," said Eiynck. "But it's still fun, and worth it."
 Junior Class Cabinet designs and puts together prom all with the wants of students in mind from the theme and venue, to decorations.
 "We want students to have a good time, an enjoyable and memorable evening," said Eiynck.