Junior Nicole Otto has a passion for drawing. This has led her to begin a 365 project. This project involves her drawing a new picture everyday for 365 days to show her improvement over a year. Otto started this project on October 17, 2011 and will be finished October 17, 2012.  As of November 10, she has completed 25 drawings. You can find Nicole drawing almost anywhere.
"I draw in class, my room, and wherever I find the inspiration," said Otto, "I got the inspiration to start this project when I found an empty folder and thought I could use it for my drawings. I just wanted to draw a picture a day to see how I improved over the course of the year.

While Otto draws many different designs she focuses the most on drawing anime for her project. She has become so talented that she receives requests from other people.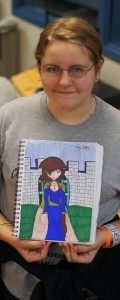 "Anime really interests me. The structure is easy to draw and it's easier to change backgrounds with people," Otto said. "It's pretty much a universal style for me to use."
Even though Otto has already drawn 25 pictures she will always have favorites. Her top five favorites are "Violet Dragon", "The Celestial view", "Figure Skater", "Penguin", and "Abandonment."
"My dragon is my number favorite but anything that is a challenge to my abilities interests me," said Otto, "Abandonment was the hardest and most challenging one to draw. It took me forever."
Once this project is complete Otto hopes that many of her abilities will be improved on. She also has other goals for the future.
"I really want to broaden my horizon and improve my abilities. One ability I want to improve on is drawing lighter. I might even want to start painting some of my pictures instead of drawing them all," said Otto.  "I hope to begin posting them to my Facebook so that other people can comment and give feedback."
Story by Taylor Holt and Tiffany Kramer