French teacher Jason Swanson and the Future Educator's group will be hosting a book drive this holiday season through a local organization called "Read to Feed the Mind." It will begin Monday November 28 and will be finished Friday December 16.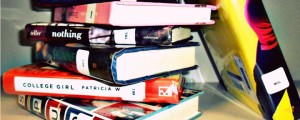 Students can drop off gently used books in the media center or office. These books will be given to families in need this holiday season.
"If students are tracked on learning capabilities it is shown that students from lower income families have a lower literacy level. If families are struggling to put food on the table and provide clothes then they don't have money to get books," said Swanson. "If people bring toys for toys for tots then why not books too."
The book drive was started four or five years ago during "I Love to Read Month" in February. It was switched to November and December because of the holidays. This is the second year they have done it through "Read to Feed the Mind."
"The more people read the better off they are. A research was done in the U.S. of prisoners and the common link between them was a bad reading level. When I was a kid I didn't wanna read because I couldn't find a type i loved," said Swanson, "So the goal is that kids will stumble upon literature that they enjoy."
Last year they collected 300 books and this year their goal is to collect even more.
https://sites.google.com/site/feedthemindorg/
Photos By Tiffany Kramer and Taylor Holt