Today's levy referendum will affect the future of Buffalo-Hanover-Montrose schools
Community residents ages 18 and over are voting on whether or not to renew a levy that has been providing funds for schools over the past 10 years. The money is used to pay for teachers and classroom expenses for students.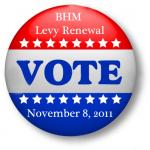 The levy is a renewal of the existing levy that was passed in 2003 and was said to expire in 2012 (10 years). The levy does not increase the amount of taxes adults will have to pay. If this levy is passed, it will prevent $2.6 million in budget reductions for the 2013-14 school year.
"I would like to see the levy pass because the levy benifits the youth in our community. I will for sure be voting," said ninth grade Earth Science teacher Rachael Busch.
Today the polls will be open from 7 a.m.-8 p.m. Buffalo-Hanover-Montrose residents can vote at the Buffalo Community Middle School in Buffalo, Hanover Elementary in Hanover, Montrose Elementary in Montrose.
"No matter the results of the levy, I believe that it will by far make our school stronger," said Theater Director Tracey Hagstrom-Durant. "If the levy doesn't pass, were bound to have class sizes increase, activity fee's will have gone up as well as some maybe be cut. As director of the theater, I am concerned about results of today's elections. Last time, the theater, didn't get cut, and this year if it doesn't pass I'd be our turn."
Story by Paige Hasledalen