Students unite to give gallons of blood at Blood Drive
"What if I die?"
Senior Nic Ernhart fidgets as he awaits his turn to give blood. "Nah, just kidding," he said. "Just, hopefully I can make a difference in the world."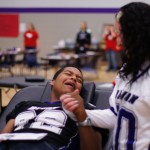 Ernhart was just one of hundreds of BHS students that packed into the West Gym on Friday, October 14, for a blood drive. It started at 8:00 a.m. and ended at 2:00 p.m. It was organized by NHS and the American Red Cross collected the blood.
I didn't really think of that much when they were drawing the blood," said Senior TJ Cashin. "I was just thinking of all the people it would help."
Students were told to eat a good breakfast and lunch. Students were highly recommended to donate blood because one pint of blood can save three lives, five-million patients need blood every year, and less than 38 percent of the population is eligable to donate.
"Afterwards, my entire body was tingly, and I kept tipping over but everyone was super nice and helped me out," said Senior Maya Bolduan. "And all I wanted to do was go for a run, but I couldn't because I'd fall and break my camera."
Story by Jake Michalko
Photos by Emma Rodelius