As Opening night for Once Upon a Mattress, BHS's Fall Play, approaches, Director Tracy Hastrom Durant, Choreographer Deb Bestland, Music Director Michael Walsh, and the cast members are getting ready, and are all really excited for Opening Night.
The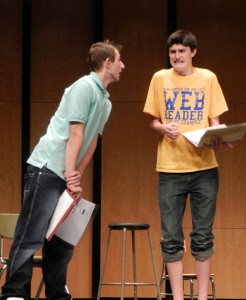 cast has been rehearsing everyday after school, for the past month.
"I feel very confident that by opening night, that we're going to be ready in time," said Choir Teacher Michael Walsh.
This year's performances will be  December 1, 2, and 3 in the PAC at 7pm. Then it will also be performed December 4 in the PAC at 2pm.
"Once upon a mattress will be filled with lots of excitement. Even with some new faces, the cast is still very talented and most have had years of experience in theater which is very good," said Walsh.
The show is set during the Renaissance time period.  The play is mainly based on the fairy tale, 'The Princess and the Pea'  by Hans Christian Andersen, with a love story mixed in. The show will be filled with color and excitement.
Story by Paige Hasledalen