Thursday, June 2, was the students in the choir department gathered to perform their final choir concert of the year.
For seniors, this is the last concert that they will sing in at BHS.
"It's a weird experience when you're on stage for your last concert. It feels almost surreal," said Senior Nicholas Hazzard.
The choirs consisted of BHS Singers, Treble Singers, Varsity Singers, Freshman Choir, Varsity Choir, Concert Choir,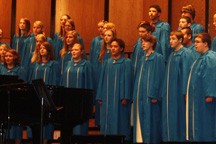 Women's Choir, and Men's Choir. Total, they sang 20 songs including one song sung by all choirs combined.
"I wouldn't say it was our absolute best concert, but because it was our last one, it was a really fun one." said Junior Tim Kunze.  Kunze is in the concert choir which consists of both seniors and juniors. "It was kind of sad to think that would be the last concert we would be performing with the seniors."