On Tuesday, May 31, seven cakes were displayed in the lunch room to be voted on by students and staff. The cakes were made and decorated by the gourmet foods class over a span of about two days.
The class originally produced 14 cakes, which were narrowed down to the final seven through class votes. The result of Monday's school-wide voting landed Juniors Zachary Zumbusch and Garret Bullert, and Sophomore Joe Hayes' Rockstar Energy Drink themed cake with the winning spot.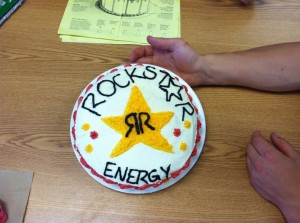 "The goal of this assignment was to present decorating techniques we had been learning," said Zumbusch. "I personally think it was introduced a competition so we would take the decorating seriously."
Students had the opportunity to pick a theme based on their own personal interests.
"My group chose to do a Rockstar Energy drink theme because we knew a lot of the students in schools would like it," said Zumbusch. "We knew we could make it look cool."
The top three winning groups received extra credit within the class, and the first place received an additional amount.