Senior Christian Kulzer starts his own small business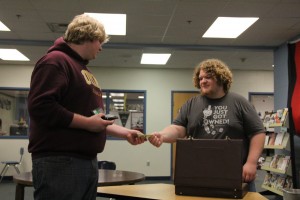 A suitcase may seem like an odd accessory for the average high schooler, but for Senior Christian Kulzer it's become a necessity in order to maintain his business. Each day Kulzer fills that suitcase with Mountain Dew, Dr. Pepper, orange soda, energy drinks, gum, gushers, crazy straws, and candy bars to sell to his peers.
"I had been thinking of an ideal business since freshman year," said Kulzer. "I've always like the idea of selling things at a better price and at more convenience to the customer. All I needed to do was get started. So, I got a suitcase to make it official, then I got the products, and finally I actually started something."
Kulzer offers soda at 50 cents and energy drinks at two dollars on a first come, first serve basis.
"I usually make like 5.50 a day," said Kulzer. "If I get here early enough I tend to make more because people like doing deals earlier in the morning. I sell usually at double what I buy them for but it's really only like a quarter more than what I buy them for."
Making money is important to Kulzer, but the lesson learned, he feels, is much more important.
"I feel like I'm learning a lot about business," said Kulzer. "I'm in economics and statistics right now so I was already in that way of thinking. It's cool to see customer views of prices and products play out. I really appreciate their input, too. That helps me improve in order to serve them better."