The Buffalo Bison Boys' Golf team went into sections on Wednesday, June 1 and Thursday, June 2 with only one thing on their mind. Upset.
The Bison were ranked fourth for sections, behind Alexandria, Fergus Falls and Moorhead (ranked 7 in state).
"We feel like we should of been ranked second, so we wanted to prove ourselves out there on day 1 and show everyone that were better than the rank they gave us" said senior Morgan Lubben.
When day one came around, the Bison let their play do the talking. Senior Alex Holtan shot a two over par 74, Junior Dan Bollant shot 75, Senior Morgan Lubben shot 76, while Junior Tommy Olson shot 79 for a team total of 304. Freshman Hunter Bruhn and 8th grader Gunnar Goodmanson also played for the Bison and shot 85 and 89.
The Moorhead Spuds showed why their a top ranked team in state, shooting a team score of 303, leading the Bison by one stroke after day one. Bemidji was a distant third with a team total of 314.
"We were still pretty excited after day 1" said senior Alex Holtan. "We gave ourselves a chance to go out there for day 2 and have a chance to win. And that's what we wanted."
With the wind howling 20-30 m.p.h on the second day, the Bison tried to keep pace with the red hot Spuds. Bollant fired a 76, Lubben shot a 79, while Holtan shot an 81. The Bison then had to use a score of 92 as the fourth score to add to the team total of 328.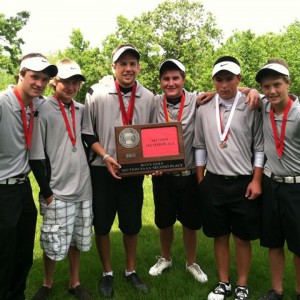 Moorhead managed to fight through the wind and shoot a team total of 304 on day two, giving them the section title and advance to state as a team.
The top 5 individual qualifiers not on the winning team also advance to state, and the Bison grabbed three of those spots.
Bollant was the first qualifier with a two day total of 151, Lubben and Holtan tied for second as qualifiers with two day totals of 155, while Bemidji's Trey Dale and Fergus Falls' Taylor Shuck took spots four and five with a total of 156.
"We were absolutely pumped that all three of us made it to state" said Holtan. "We're all proud of each other and really want each other to do well at state."
The trio of Bison will play in the Class AAA State Tournament held at Bunker Hills Golf Course in Coon Rapids on Tuesday, June 14 and Wednesday June 15.