This weekend, the One-Act play, Bury the Dead, took first place in the Sub-Section 2AACompetition. The group received unanimous top scores from the three judges.  They were judged on characterization, script interpretation, blocking, diction and volume. The cast will advance to the Section Tournament on Feb. 7, where they must take first place in order to advance to State.
The first scene in Bury the Dead is about five soldiers who were killed in combat but refuse to be buried. The play is a series of flashbacks uncovering each soldiers story and their reasoning for resisting death.
"It is a very timely piece about the agony of war, and we are in the middle of a big one right now," said Advisor Tracy Hagstrom Durant.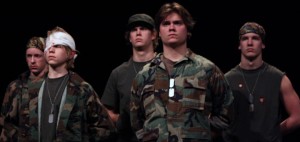 The play must be performed with a single set that can fit in a 10′ by 10′ square. Each cast is allowed 10 minutes for set up and five minutes for tear down. The play itself cannot exceed 35 minutes.
Delano was awarded second and Dassel-Cokato was also allowed to advance to the Section meet because of a technical malfunction during thier performance. The three schools will advance to the Section Competition in Cokato this Saturday, February 7. The winner will then move on to State.