Last Monday, Principal Mark Mischke presented the Hall of Fame awards to Seniors Andrew Ortmann and Rachel Mussell at the Academic Excellence Awards Ceremony. These two seniors have accomplished many things during their four years of high school and now their pictures will remain in the front foyer next to all the other Hall of Fame winners throughout the years.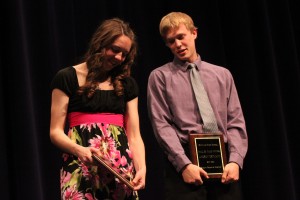 There were 10 Hall of Fame candidates, 5 boys and 5 girls. Michael Deisting, Michael LaCroix, Andrew Ortmann, Jacob Rabusch, Caleb Stumpfl, Amanda Burggraff, Brooke Gagnon, Olivia Haggerty, Lindsay Jacobs, and Rachel Mussell. Each of these students have shown their dedication and commitment to their school. Several of them have been in NHS, a variety of sports, and many other groups. On average, each of these students are in 21 different activities. Both Andy and Rachel have been involved in NHS and Varsity Basketball and many more.
In addition to the presentation of the Hall of Fame winners, there were also more than 600 awards given out to more than 400 students. There were many different awards given out that night. These awards include:
Department awards-

awards given to students by teachers that have excellend in the class

Academic Letters-

awarded to a student if they have maintained a 10.5 GPA through the current school year

Presidential awards-

awarded to Seniors that have maintained a 10.0 GPA throughout all four years of high school
Many other awards were also given out, including: American Legion Citizenship awards, ExCEL and AAA awards, Kurt Weiche Friends of Education Award, and National Merit Scholar award (awarded to Senior Jonathon Hank).
Congratulations to all students who received an award last week and a special congratulations to Senior Hall of Fame winners Andy Ortmann and Rachel Mussell.