FFA participates in State competitions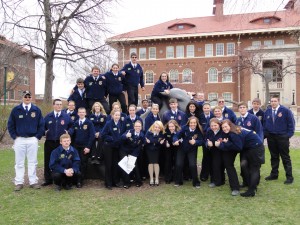 FFA members at BHS participated in the state convention on May 1-3 which was held at the University of Minnesota in the Twin Cities. After qualifying at the regional contest, members participated in the Career Development Events (CDE) contests at state.
"It was a big accomplishment for our team going to state this year," said Freshman Alex Pahl. "It was my first year going, so it was also a big accomplishment to me personally."
Throughout the year, FFA members have formed teams and gathered for many practices in their specific area of study. After spending time in their teams, they went to regions and then on to state.
"It is so fun to be packed on a bus with everyone," said Senior Megan Neske. "The group of kids that went were just a lot of fun. Going to state was overall a really great experience. The fun that we had was worth all of the hard work it took to get to where we did."
The competing teams included Crops, Small Animal, Dairy Showmanship, Ag Mechanics, Meat Evaluation, Fish and Wildlife, and Poultry. Buffalo High School's Small Animal team placed third. Senior Sammy Kramer placed first individually. Fish and Wildlife placed third overall. Senior Chris Alama placed fourth overall.
"This was the first year we really got to experience what state had to offer, and it was well worth what we accomplished," said Neske.
State Participants include: Paul McAlpine, Sarah Braith, Bridget Anderson, Megan Neske, Taylor Schmidt, Jodie Kowalke, Caily Mustonen, Lane Otto, Alex Pahl, Carly Winkelman, Andy Socha, Sammy Kramer, Taylor Walters, Melissa Neske, Lexi Pachan, Kincaid Edwards, Logan Blum, Nick Agre, Bailey Schnell, Zoie Randall, Ashley Jerde, Peter Manz, Danny Socha, Ryan Bonde, Wyat Grondahl, Joe Strehler, Chris Alama, Danielle Elliot, Seth Bragg, Jessica McMullen, and Andrew Krause.
Four additional members represented BHS at the delegate sessions.