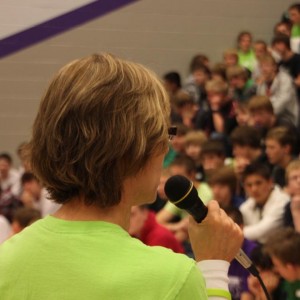 Last week on Friday, May 6, 435 8th graders from BCMS explored what it's going to be like next year in high school. Many of BHS Juniors and Sophomores showed the 8th graders around the school. They had the students explore all the different kind of classrooms that BHS has, a real high school lunch, and they even got to ask questions to the leaders and teachers of the school. These 8th graders replaced the seniors for the day because the Seniors were celebrating Senior Appreciation Day. Also, the Juniors got a feel on how it's going to be like next year as Seniors.
"I felt that the whole presentation of the school went well on Friday," said Advisor Vicki Cary. "I am very proud of this years impact student leaders this year because I feel that they took this day very seriously. I am impressed with what they did and they were great with the kids."
Principal Mark Mischke was also very impressed with how Friday went.
"Our student leaders have made a huge impact on the new 8th graders coming to the high school next year," said Principal Mark Mischke.
Many of the student leaders were very helpful with their 8th graders. These 8th graders were mostly scared of how big the school was and they had a fear of fitting in. After the day ended most of their fears went away.
" I had a really big variety of different personalities in my group," said Junior Haley Adams. "One girl said how scared she was to come to the high school in the beginning of the presentation and by the end, her fears were gone."
BHS will see all of those freshman in the fall of 2011 for their first year of high school!