Seniors honored at Students of Excellence dinner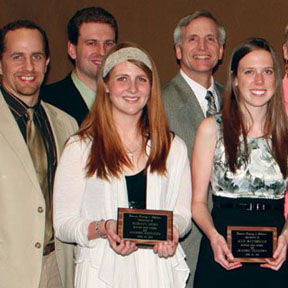 Seniors Anna Huff, Nick Allen, Madalyn Nones, and Julie Watermiller attended the annual Students of Excellence dinner at the St. Cloud Convention Center.
The students selected are the top four seniors in each participating school. Each individual student is encouraged to choose one teacher to accompany the student and their parents to the dinner.  Ryan McCallum,  Scott Rabehl, Carlton Urdahl,  and Joel Squadroni were the teachers selected by the students to represent BHS.
"I chose to bring Mr. Rabehl because he is a teacher I feel comfortable being around so the dinner would be fun," stated Senior Anna Huff.
Over 450 people were in attendance at the students of excellence dinner. The students, parents, and teachers of choice arrived at 5:30 to the St. Cloud Conventional Center and signed in. As they were served dinner, a guest speaker gave words of encouragement and  recognized the students and their accomplishments. Afterwards three representatives from Minnesota's board of education spoke to the students.
"It was an honor to be there and to see all of it from a teachers perspective",  said Ryan McCallum who was Senior Madalyn Nones' teacher of choice.