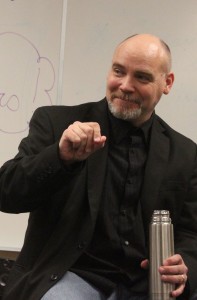 Tim Lammers came to Buffalo High School to speak to Mrs. Koch's Journalism 1 class this past Friday. Tim specializes in movie journalism, creating feature stories and reviews fro multiple newspapers, magazines, radios, television, and online sets. He previously was the national entertainment news editor for the Internet Broadcasting Network, and in February of this year, he started his own movies news website: www.strictlycinema.com.
"I love movies. Movies inspire me," said Lammers.
Part of Tim's job is to fly to places such as Los Angeles and interview actors/actresses. Lammers has interviewed over 1,000 stars in his career. So far, Timothy Dalton was is favorite person to interview. He also has a few favorite directors such as Sam Rami and Tim Burton. Lammers is constantly working. His typical work day is 8 a.m. to 10 p.m. He watches, on average, 3 movies per week.
"I check my e-mail constantly," said Lammers, "If I take a vacation, my lap top will certainly come with me."
Tim stated that getting to where he was today was not easy. He went to college and majored in law enforcement and political science; none of which partake in his career today. He did numerous internships with local radio stations such as KRWC in Buffalo and worked for little pay of $5 an hour.
"Do your work professionally if you want to get recognized," stated Lammers.
One of his most memorable moments in his career is when George Lopez sent him a package in the mail with Rod Carew's signature personalized to him.