April is Autism Awareness Month at Buffalo High School.  This year, students who are in Students Stepping Up, (SSU) are helping create awareness within the school.
Junior Elise Walters started the idea of creating awareness throughout the school, because she has family connections with Autism.  SSU Advisor and Social Studies Teacher Mrs. Hulley helped get the group together.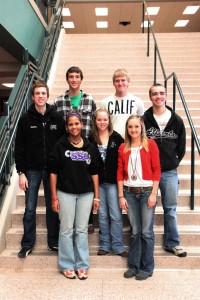 "I told people we would have a meeting in AAA to make some posters to create awareness, and I ended up having over 30 people show up to help," Hulley said excitedly.
They are selling awareness t-shirts for $10, and are wearing them on set days during April to create awareness.  They are also going to make posters and signs with facts about Autism and hang them up around school to create awareness throughout the month.
"Next year I want to do something more.  So many people have loved ones that are affected by Autism, and we don't realize it," said Hulley.
Sophomore Taylor Strege also has a connection to Autism.  Her younger sister, Claire, has Autism.  All of the proceeds are going to the website http://autismallies.org/, which Taylor's Dad, Roger, created in honor of Claire.
Autism Awareness is honored all over the nation during the month of April.  1 in 150 children are affected by Autism every year, and if there is more we can do to help, Buffalo High School's SSU is the place to start.