No Pasche, No Problem, Knowledge Bowl teams take First and Second place
While teams 1 and 2 were off winning Regions last week, the remaining two Buffalo Knowledge Bowl teams won the Class B Tournament at St. John's University Friday March 18. Not only did they win, but they dominated the tourney with a 1-2 finish.
"This was a big win for us," said junior Lawrence Michalchik. "It was the perfect way to end our season."
Team 3 almost blew a three point lead after the second of four rounds.
"We briefly had the lead midway through the tourney," said senior Cody Hanson. "But we stumbled late and [Team 3] resumed the lead."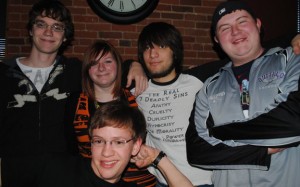 Despite the absence of head coach Peggy Pasche, the under-mentioned Knowledge Bowl members showed their composure throughout the tournament, despite the adversity.
"Pasche always does a great job of [preparing us] for our meets," said senior Matt Feinberg, Team 3 spokesperson. "It didn't matter that she wasn't there, we were ready [for the meet]."
Team 3 won the tournament with 89 points, beating out Team 4 and Albany by two and six points, respectively.
"We only had three people come to watch us," said Feinberg. "But I'm glad someone saw us win this tournament."
This was Knowledge Bowl's first 1-2 finish of the season.
With this win, teams 3 and 4 end their season on a high note. Teams 1 and 2 will be going to State this year, which will take place in two weeks on April 7 and 8.