Matt Lubben named principal of BCMS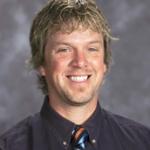 Buffalo Community Middle School Assistant Principal Matt Lubben was offered the Head Principal job at BCMS on March 16. He accepted the offer. Lubben will replace Julie Swaggart, the current BCMS prinicpal, at the end of the school year. She taught in the BHM school district for 38 years and she left to begin her retirement.
"Her retirement will leave big shoes to fill in the principal position at the Buffalo Community Middle School (BCMS)," a teacher said in a BHM Schools webpage article.
Lubben didn't recieve the position right away and was one of the three finalists that was interviewed for the position.
Lubben started his career as a science teacher at Buffalo High School and later became an Assistant Principal at the school. He was an Assistant Principal at the middle school for the past three years.
"Throughout the interview process, Lubben showed a passion for students and his commitment to making decision that are in the best interest of students. The interview team said one of his greatest strengths is building positive relationships with students and staff," said a BHM schools' press release.
Staff members also asked students and parents what they thought of Lubben when they were at the school. They described him in many different words.
" He is personable, positive, reliable, welcoming, involved, trusting, energetic, passionate and caring. Just to name a few," they said.