Amazing Outcome at BHS Blood Drive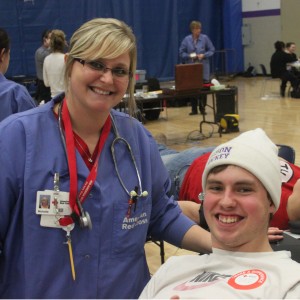 Buffalo High School's NHS partnered with The Red Cross blood drive on Friday, March 4. Thanks to the students, teachers, and volunteers BHS contributed 144 pints of blood saving an estimation of 432 lives.
NHS members bonded and comforted  student donors by talking a holding their hands as the students gave blood.  The red cross members were very friendly and efficient.
Senior Morgan Broten says, "I was feeling great when I went in to donate. It was for a great cause and I knew it would be helping people so I was excited. The overall experience of donating blood for the Red Cross was exquisite. The staff and volunteers were very professional but very comforting at the same time."
Make sure to watch for the Blood Drive Video coming soon.