Guest artist inspires Ceramics students with a fury of creation
Keith Williams came to Buffalo High School Friday as a guest artist for Jon Holtz's Ceramics classes. Holtz has known Williams for about 13 years.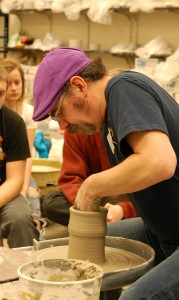 "My dad used to teach at the same university as him and introduced us," said Holtz
Keith is a ceramics teacher at Concordia University in St. Paul. He has been making pottery since 1973. Most of his art work is displayed and created for art galleries.
While Williams was at Buffalo, he made about 3 different teapots varying from functional to dis-functional to sculptural. The students seemed to really enjoy him there.
"He seemed to really know what he was doing and genuinely enjoy sharing his knowledge." said Senior Annalee Mason.
Keith comes to Buffalo once a year, for more information, please contact Mr. Holtz.