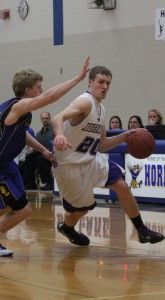 The Bison Boys' Basketball Team fought hard against Big Lake, but it wasn't enough. Big Lake beat Buffalo 63-58 in over time. The Bison earned at least a share of the Mississippi 8 Conference Championships for the fifth season in a row.
If St. Michael loses their game against Rogers tomorrow, the Bison will have sole possession of first place in the Mississippi 8. If the Knights win, they will share the Championship.
Buffalo led the first half of the game resulting 30-20 lead at half time. The Hornets came out strong during the second half and then Bison fell to them. Though the Bison lost, the team fought a hard game. Senior Josh High had a total of 21 points, and sophomore Ethan Freer had 16 points.
"We came out playing really well in the first half," said Senior Jerome Begin, "One of the Big Lake's players got hot shooting 3-pointers and we just couldn't stop him. It definitely is different without our senior point guard leader, Andy Ortmann, with him being put on injury reserve."
As the Bison come to the end of the season, they hope to come away with the last regular-season win at Robinsdale-Cooped High School on Friday. The boys take on Elk River at home to start the Section Tournament on Tuesday.