On Tuesday, February 24, the Bison Boys Hockey Team defeated the Brainerd Warriors on home ice to end their season.  The final score of the game was 6-2.  Senior defensemen Cole Meyer scored the first goal of the game. Shortly after Meyer's goal Senior Alec Ackmann scored, adding another point to the scoreboard for the Bison before the first period was over.  The Bison were leading 4-2 late in the third period and Brainerd pulled their goalie, desperate to tie it up.  Senior Zach Blaisdell and Junior Josh Gaughan both had open-net goals, leaving the final score 6-2.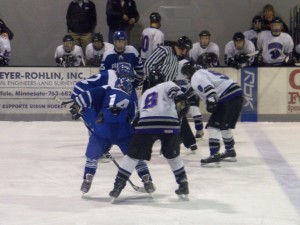 "It was a really intense game," said Blaisdell, "Both teams had the playoff nerves and there were times when the game was really close."
The Bison will play the Moorhead Spuds on Saturday, February 28.  The game will be at the SCSU hockey arena in St. Cloud.  Moorhead is ranked 1st in the 8AA Section, and Bison are ranked 4th.
"Moorhead beat us earlier this season," said Blaisdell.  "We could have played a lot better, and I think we will on Saturday.  Brainerd only lost to them 3-2, and we beat Brainerd 6-2.  They are definitely beatable."