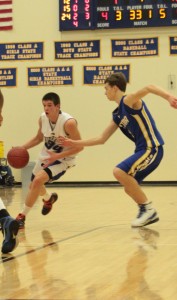 The Bison Boys' Basketball team had a rough game against St. Michael-Albertville Tuesday night, resulting in a 45-41 loss. This was the third Conference game the boys had lost in the last 5 years.
Buffalo came out on fire in the first half, shutting down STMA to only 7 points with the Bison leading 16-7. Though, when the boys came back out for the second half of the game, they fell apart. Still pulling through, Sophomore Ethan Freer led the Bison with 15 points, and teammate Junior Dominic Gilmer scored a total of 14 points. Senior Andy Ortmann injured his knee in the second half, and his condition is to be determined.
"We came out playing really well, but we didn't start the second half like we had hoped," said Senior Jerome Begin. "We let the Knights get away from us."
The Bison are still  13-1 in Conference and 18-5 overall. The next game is senior night this Friday at Buffalo High School against the Becker Bulldogs at 7:30 p.m.