BHS senior gets unique opportunity as the basketball voice of the Bison
Senior Morgan Lubben is the home basketball game announcer for both the boys and girls team. He has been announcing basketball games for the past two years, replacing professional sports announcer Rusty Kath.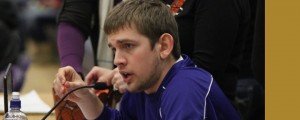 "I want to be a professonal sports announcer," said Lubben. "There is nothing better then getting this great opportunity to announce  the basketball games."
Lubben plans to attend college, and major in broadcast journalism, although he has not decided where yet.
"Having someone who knows the players at personal level is definitely a big plus and gets the team fired up," said Senior captain J.P Begin. "He controls the warm-up music and can really create energy in the gym."
Lubben plans on announcing the rest of the home games this season, including any home section games the two teams may play at home.