The girls basketball team conquered another conference game over Princeton, beating them 69-45. The bison are 19-3 overall and 10-1 in conference.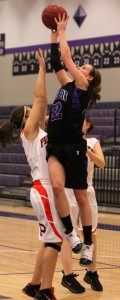 The bison had a tough start trailing the tigers 0-9 in the first 4 minutes of the game, but managed to come back ahead before halftime taking the lead of 30-24. Kendra Wycoff, number 12, lead the bison with a total of 13 points. Behind her was Emily Spier, number 50, and Malorie Schmidt, number 13, each scoring 11 points. "We played well together and everyone contributed to the game in different aspects," stated Senior Molly Muntifering, "It was a selflessly played game."
The girls next game is Friday at Zimmerman High School at 7:30 pm, and the next home game is against St. Michael-Albertville on Tuesday starting at 7:30 pm.