Music and Lyrics of Jade Dietz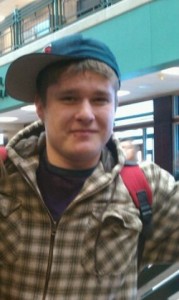 Junior Jade Dietz blew the audience away with his performance Saturday February 5 at the Buffalo variety show. Dietz sang a song entitled "Two Hands" in which he also wrote, while he played the acoustic guitar.
"Two Hands" was written by Dietz with the help of Frannie Pearson. "It took me about a week to write the song then Frannie added some lyrics and tuned it up a bit" stated Dietz. The two have been good friends for about a year helping one another perfect their voices and prep for performances. Both worked about a month on Dietz's variety show performance.
Dietz started taking singing lessons 7 years ago and guitar lessons 4 years.  His first performance was in his Spanish 1 where he sang Flake by Jack Johnson. Ever since then he has had 5 major performances.  At the Variety show Dietz admits, " I was very nervous before the performance but once I started to play I loosened up a little bit".
For those who did  not attend  the show there will be another chance to hear his music. Dietz hopes to keep writing lyrics, perform, and eventually make a cd. He says, "I want to get my voice out there and become more public".
So watch out Justin Bieber, Jade Dietz is ready to be heard.