Girls' Gymnastics – both JV and varsity – competed in their last home meet against Minneapolis-Washburn Monday night. JV with a score of 108.65 to 95.65, and varsity with a score of 129.175 to 114.5. The second most points they racked up this season behind a score of 130.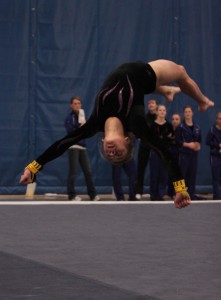 JV's Noelle Zingelmann got first in all-around with a score 27.65. And Varsity's Michaela Prez also got first with a score of 33.27. Buffalo's Leeza Kennedy took first in the combo all-around, where she competed two events on JV and two events on varsity, and scored a 29.775.
The win improves the bison to 3-13  and 2-4 in conference. The next meet is JV conference Friday the 11th, followed by Sections next Friday the 18th in Prior Lake, and state will be held on Saturday at the University of Minnesota.