The Buffalo Boys' basketball team picked up a huge conference win over St. Michael – Albertville at home on Friday night. The Bison beat the Knights 65-52, in a rough battle to the end.
The Bison led 27-18 at the half and came out firing on all cylinders in the second half to extend the lead and put the game almost out of reach. The Knights tried to make a run and pulled within seven with five minutes to play, only to be shut down by the big Bison defense, who did not let the Knights get back into the game.
Senior Josh High led the Bison, scoring a career high 29 points,  sophomore Ethan Freer added 15 points, while senior Andy Ortmann put up 10 points for the Bison.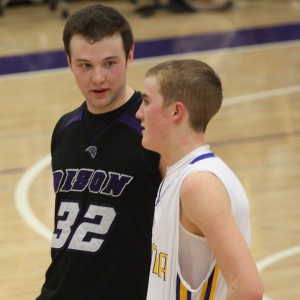 The bigger story for the bison, is the defense that Senior Jerome Begin played on the Knights star senior Joe Carpenter. Begin was matched up with the high flying Carpenter, who averages 17 points a game, all night long and held him to a season low 6 points.
The win puts the bison alone at the top of the Mississippi 8 Conference with a record of 6-0 in conference, and a record of 9-3 overall.
The Bison had a game in Minnetonka the very next day, where they played Marshall as part of the Breakdown Sports Tip Off Classic. The Bison won 72-69, putting the Bison on a 10 game win streak and bringing their record to 10-3 overall.
The boys will next be in action Tuesday night, as they take on Becker at Becker High School.