The Bison lost 6-0 against Moorhead on Tuesday January 18.  At 11:30 in the morning the Boys' Hockey team started their 3.5 hour journey up to Moorhead. They stopped in Alexandria for food and restroom, and arrived in Moorhead at 3:15. The pucked dropped at 6:00 p.m. and the Bison allowed three goals in the first period.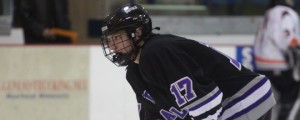 "I thought we came out strong and played well," said Junior Tyler Burg. "Its just we had a short period of time, where we had our lapses and that's where they put away three goals."
In the second Bison found themselves shorthanded most of the time and the Spuds took advantage of that and scored two power play goals.
"Our second period we came out flat and didn't play well at all," said Burg. "But for the third we changed our fore-check and started playing like we can. "
The Bison played even with the Spuds in the third, letting in no goals. The boys' next game is tonight at Princeton.