Students have arrived and classes have begun, school has started. Only three weeks into the school year and students have started to show their school pride. This year's homecoming theme is "global journey" students will participate in dress up days from around the world.
Monday started off the fun with tourist day.
"It's fun," said Junior Rachel Stenson. "I wanted to show my school spirit and show the underclassman how its done".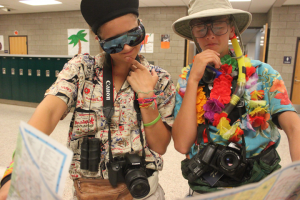 The school will be frigid with arctic white out day on Tuesday and then Wednesday, Students will blend in with camo day. The annual class color day brings grades together in spirit of their color, and Friday ties it all together with Bison pride.
"I like how during the first three days we are all individuals," said Senior Nick Weeks. "But then in the final days, we all come together. Class color day we come together in each grade, then on Friday it's almost religion; we all dress in purple and white and worship the buffalo."