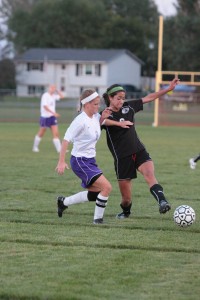 The girls varsity soccer team took on the Rogers Royalson Tuesday, September 14.  Both teams exhibited enthusiasm and skill; cheering on teammates was heard all over the field.  owever, the Royals' team proved to be a challenge for the Bison.  Throughout the game, shouts of, "Pressure!" encouraged all players to kick up their skills to a highe level.  Concentration was apparent on all the players' faces.  Whenever a Bison player began to make progress toward the Rogers goal, immediatly there was an opponent for them.  "Man on!" was called, and a swarm of Royals skillfully stole the ball.  The ball was taken away, thus proving the Bison's efforts to move the ball toward it's destination in vain. 
Rogers players scored a tricky goal right before halftime in which one girl passed the ball to another, who performed a header out of the goalie's reach and into the goal.  Buffalo girls performed well but never had a chance to score. 
The game resulted in a 5-0 loss for the Bison.  New goals were made for the next game against Maple Grove on Saturday September 18.