On June 3, 2010 outside of the Performing Arts Center at BHS from 6:15-7:00, you can participate in the eleventh annual ceramic bowl silent auction.
All of the proceeds will go to the Vision, Strength, and Access (VSA) arts on Minnesota.  This is a non-profit group, founded in 1986, that supports the arts for individuals with disabilities.  In past years, about $7,000 were donated from the ceramic bowl silent auction.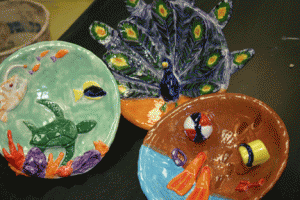 Having proceeds going to a positive organization leaves students feeling good about how they participated.  "I really like it," said sophomore Derrick Klersy.  "It's a good idea because people with disabilities need extra support.  I just think it's the right thing to do.
By Sam Nyberg, Sam Maihot, and Delia Langland