This week, April 12-16, was Teacher Appreciation Week at Buffalo High School.  This years theme was "You Rock."
"The teachers and staff got decorations and thank you signs," said Senior Lucas Hein.  "They also get candy and a staff breakfast."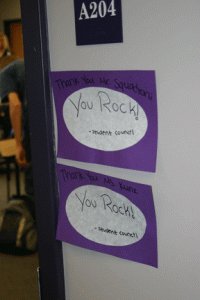 It's really important to not take your surroundings for granted- teachers included.  That's why this week is a valuable lesson for everyone.
"Some individual students wrote thank you notes to teachers that really made a difference in their lives," Senior Ashley Michalko.
"I think it's important to keep Teacher Appreciation Week going because it lets the teachers and staff know how much we care and appreciate them for all they do," said Hein.