Mock Trial places second in State Tournament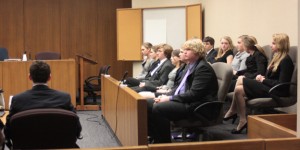 After an unsettling seventh place finish last year at the State Tournament, the Buffalo Mock Trial team redeemed itself by earning second place honors at the State Tournament on Wednesday. Two Buffalo team members took All-State honors.

Each of the twelve teams at State compete in three rounds to determine the top two teams that square off in a championship round. The teams are divided into winner and loser brackets throughout the three rounds by the amount of ballots they receive. Each judge's score sheet is considered a ballot, and three judges preside over a round.
Buffalo swept both St. Peter and Albert Lea in the first two rounds by taking all six ballots, which seeded them against Woodbury for the third round. Buffalo took two of the three ballots from Woodbury, which placed them at the highest seed in the tournament.
"We had a very fortunate seed in the first round," said Coach Laurie Raymond. "Our point differential in that round let us face some of the weaker teams who were winning trials later on in the tournament."
At the awards luncheon on Wednesday, Judge James E. Dehn announced that Buffalo and Breck School were the two highest-seeded teams advancing to the final round. The scores weren't released, but Breck will represent Minnesota at the National Tournament in May.
"I won't ever forget when they announced that Buffalo was going on to that final round," said Junior Samuel Kemp. "Everyone at our table jumped up and started screaming."
Throughout the tournament, Senior Lindy Jensen earned her second All-State Witness award at the tournament and Senior Graham Wyatt earned his second All-State Attorney award. Jensen was the only individual in Minnesota to earn an All-State Witness award twice, and Wyatt was one of only three to earn two All-State Attorney awards.
"The tournament was an incredible experience and a great way to end four years of mock trial," said Wyatt. "Breck had a great team this year. They earned the privilege to represent Minnesota, and I don't regret anything."