BPA raises money for Minnesota Special Olympics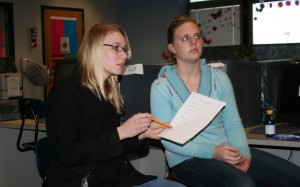 Business Professionals of America is a school program that offers career and technical organization opportunities for all students. This week, BPA has been raising funds for the Minnesota Special Olympics.The chairwoman for this fundraiser is Junior Jessica Demeules – co-chairs are Seniors Joey Jordan and Michael Bonde. They are selling tickets at $1 a piece, and they can be purchased at sporting events and during lunches on Monday, Wednesday and Friday to win various donated prizes. Prizes will be given out during the Boys' Varsity Basketball game; prizes ranging from gift cards to local restaurants to a red Dell Laptop.
Along with raising money for the Minnesota Special Olympics, BPA is also competing with schools around the state to raise the most money and awareness for an organization. Last year, they raised money for the same organization, and received an award for their accomplishment. They have set a goal this year of raising $2,000, nearly doubling last year's total. To increase awareness, BPA members are doing more advertising during the school day and at school sponsored events; they hope to receive an award in the area of advertising as well.