Tuesday, the boy's and girl's basketball teams played Cambridge-Isanti.
The girls had a tough loss of 51-60 by the end of the game.
"We started out bad and weren't getting rebounds that we needed. We were missing shots that we usually make but in the second half we stepped it up and made it a pretty close game," said Senior Kristin Jeske. "Rebounding is something we always want to improve on. That is the major thing we think will really help us."
The boys came out ahead with a score of 51-41.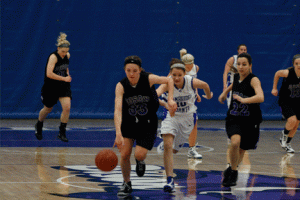 "I thought we played pretty well on Tuesday. Cambridge is a good team and it's always though playing there. Of course there's room for improvement,"  said Senior Erik Starr. "We need to clean up a couple of little things on offense and defense for Friday but we'll be just fine. We also need to knock down some more free throws. We didn't shoot as well from the line Tuesday as we usually do."
The girl's start their sections on March 6 in St. Cloud. Their opponent still has to be determined. The boy's play Friday in Monticello at 7:30 P.M.
By Sam Mailhot