Saturday, January 30, the One Act play placed third place during Sections, one spot short of going to the State competition. Delano took first while Rockford followed in at second. The One Act team was recognized in their conference as a strong team and received a star for their hard work. Their public performance took place February 1 in the PAC (Preforming Arts Center).
"We had a solid performance and worked together as a team really well. Next year we'll just have to make some changes." said Sophomore Kaelie Lund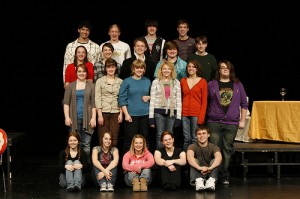 The title of this years play is "Nickle and Dimed" based on Nickle and Dimed, on (Not) Getting by in America by Barbara Ehrenreich. It covers the story of a middle female writer that wants to research low-wage life first hand. "Speaking for myself, I think we did a great job. We grew as a team, connected with their characters, and learned a lot about minimum wage living." said Director Tracy Hagstrom Durant.
By Sam Mailhot, Sam Nyberg, Heather Beasley, Molly Sandahl, and Alyssa Keesling