With the New Year came the school board's attempt to keep the student body healthy.  Soda machines were changed to diet-only and new healthy snack choices were added to the lunch menu.  With help from the Student Food Council, items such as 100-calorie snacks and baked chips instead of fried are now an option for students to purchase.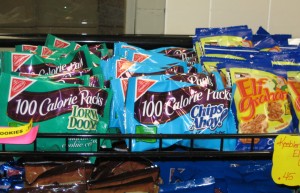 "We're hoping that the lower-calorie snacks and baked chips will encourage students to eat right," said Food Service Assistant Kathryn Lohse.
Healthy snacks weren't the only new items on the lunch menu.  Walking tacos, jalapeño pretzels, waffle fries with seasoned sour cream, and other snacks were also added recently.
"I suggested the Walking Taco.  Everyone loves Walking Tacos, and I knew it would be a big hit," said Junior Billy Ogdahl, Chairman of the Student Food Council.  "I definitely recommend it."