Students Celebrate December Holidays
The month of December is full of different types of holiday celebrations. The holidays range from Christmas to Hanukkah, and many more. At Buffalo High School (BHS) ninety six percent of students celebrate Christmas.
According to the History Channel, "the middle of winter has long been a time of celebration around the world". Christmas is celebrated on December 25th and Christmas eve the day before. On June 26, 1870 Christmas was declared a federal holiday in the United States, according to the History Channel.  'Santa Claus' has become a major tradition for families around the world for celebrating the holiday of Christmas, but all families have their own traditions that they do.
"We put up our Christmas tree with colorful lights and we open up out big box of ornaments which bring back great memories, " said Sophomore Anna Jacobs. "We also open our gift that day before Christmas and on Christmas morning we open up all our gifts and yes we still get gifts from 'Santa' which is always fun."
At BHS three percent of students celebrate Hanukkah. Hanukkah is a eight day Jewish holiday that takes place between late November and late December. According to Religion Facts, every year the dates that Hanukkah falls on changes,  this year its December 12-19, 2009. History Channel states, 'On each night of Hanukkah, the menorah is lit to commemorate a miracle which occurred after the Jews proclaimed victory over the Syrian armies in 165 B.C.E. When Jews came to rededicate the Temple-which had been defiled by the Syrians-they found only one small flask of oil with which to light the menorah. This flask contained only enough oil for one day, yet the lamp burned for eight days.'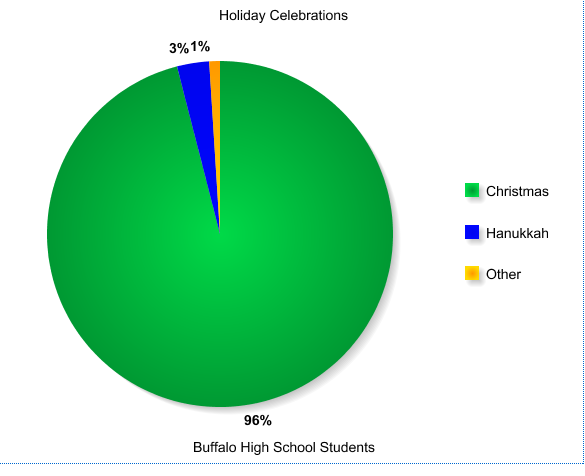 Traveling is a part of the holiday season for fifty percent of students at BHS. Some students travel as little as a couple houses down from theirs to around the country.
"I go over to my grandparents," said Sophomore  Laura Meisinger. "We have dinner and of course open presents."