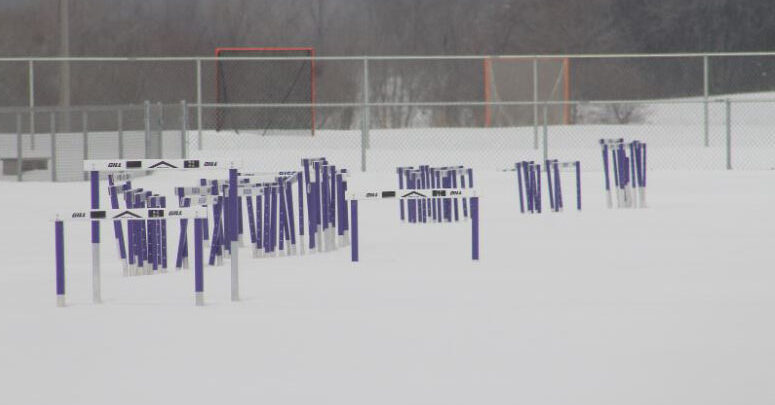 Buffalo High School sports teams such as golf, boys tennis, lacrosse, track, baseball, and softball are being pushed back inside after the snowstorm that occurred on Wednesday night and into Thursday. This created quite an upset and disappointment among the athletes.
On Wednesday, the track team had to walk the equipment back into the shed on Bison field West, and into the school after having been able to practice outside for the week before the snowstorm. They have been extremely limited in practice because they can't be outside. Disk throwers have not been able to practice much at all because they cannot throw inside or outside with the current weather.
"We haven't done a lot of outside throwing, I think we have gone outside three times because of weather." Sophomore Eli Ostvig said, "We were supposed to go to a meet in Irondale last Friday, but they canceled it."
Some sports are toughing out the melting snow and getting back outside to play. On Friday the boys and girls lacrosse team made their way out onto the field with shovels and started to clear the field of snow. They continued to shovel snow over the weekend in order to keep their season in full movement with a boys game on Monday.
"We were supposed to have scrimmages the first Saturday after tryouts, so for one of our practices, the night before on Friday, we had to shovel the field, and there was a layer of ice and then there was thick snow." Senior Payton Johnson said, "But thanks to everyone that helped we were able to scrimmage which was nice, but we still had like snow on the sidelines so we've had both of our games here canceled now."
Now that the snow has melted, sports have started to get back outside and practice, but there definitely was a concern for the conditions of the fields. Teams have persevered and have begun to reschedule games.
Photo by Carly Kauffman