Mario Kart phone rumors spark nostalgia
New rumored Mario Kart game for iOS and Android scheduled to release soon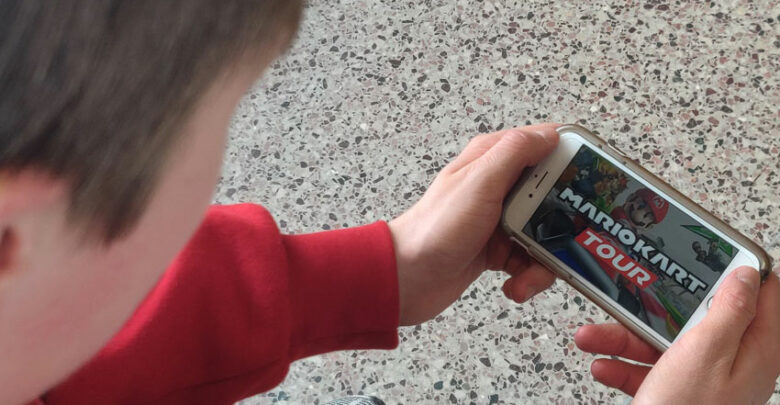 What is your earliest memory playing Mario Kart? Maybe playing with your friends or family, getting it for Christmas or a birthday and being overjoyed? Well, you might be able to relive that joy and nostalgia of playing Mario Kart again with it rumored to be coming out this month on iOS and Android. Staff and students have had much to say about it.
Mario Kart is a beloved game, becoming most popular in 2008 on the original Wii. It has reached many lives and has been awarded the Family/Children Game of the Year,  the Wii's best racing and driving game, the Wii's best online multiplayer game in 2008. it also won the 2010 Kids' Choice Award for Favorite Video Game.
The new Mario Kart game coming out has been named "Mario Kart Tour". Nintendo released an official statement about the game on Twitter in February 2018
The checkered flag has been raised and the finish line is near. A new mobile application is now in development: Mario Kart Tour! #MarioKartTour Releasing in the fiscal year ending in March 2019. pic.twitter.com/8GIyR7ZM4z

— Nintendo of America (@NintendoAmerica) February 1, 2018
Nintendo has released a recent announcement to stockholders informing them that the new Mario Kart phone game will have to be pushed back to the summer of 2019
Math Teacher David Kilgore said, "I am personally intrigued and I am hoping that it is free, because then it will find it's way onto my phone."
Kilgore reminisced about his time playing the older Mario Kart games with friends and family.
"It's the memories of who I was playing with, you know, not necessarily the game itself," Kilgore said. "The game itself was great, but it was just a great tool to interact with my brother back then and now. I just played it again with him a couple of weeks ago."
Kilgore also explained that gaming has impacted his life.
"The one I spent the most time playing was Mario Kart Double Dash for GameCube," Kilgore said.  "My twin and I used to play it all the time growing up. I think that's my favorite, maybe that's just because I'm nostalgic."