Pen in hand, Senior Bruce Manz began signing his letter of intent to play football for the University of South Dakota on a full ride scholarship.
"B-R…" Head Football Coach Gerard Rohl encouraged.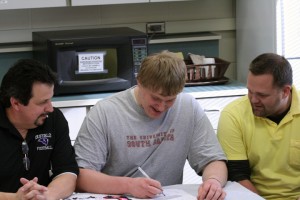 "What's the rest of it?" Manz asks causing the supporting crowd to laugh.
Manz received over a dozen offers including full rides to first University of South Dakota and then to North Dakota State University. University of Minnesota-Mankato was the first to offer him a scholarship but eventually backed out after realizing they were up against bigger schools, lessening their chances.
"I taught religion at church that night, so I went and asked Erika Rhode to pray with me because I couldn't decide," said Manz. "After explaining the situation she told me that it seemed like I owed it to them. USD was the first one to offer me the full ride. They were with me through the whole thing."
Eventually making the decision, Manz picked up the phone and dialed the USD coach's number, not knowing what he was going to say to him but informing him on his verdict. Recalling the next phone call to NDSU, Manz says telling them he wasn't going to play for them was the hardest thing he has done in his life so far.
First joining football his seventh grade year, Manz admits he just went out and hit the nearest person. Five years later, that had all changed.
"Bruce called me up on a Sunday and told me I had to come to his farm, he had something to show me," said Rohl. "I got to his farm and there he was, with these huge tires connected to chains, and he was pulling them around. Gunderson used the tires for conditioning the rest of the season."
After graduation this spring, Manz will head to Vermillion, South Dakota to act as a practice dummy for the Coyotes. Starting classes in the fall he will focus on generals with a possible double major of education and agriculture. He will spend his first year training to get stronger until official freshman year for football.
"I don't consider myself good," said Manz. "I have to keep striving to be the best. There is always someone better than me. My dad has always said to shoot for the stars."